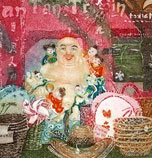 'Buddha' by Chloe

Events

"Beyond the Archive"
Exhibition
Sat. Feb 29 - April 4
Victoria Arts
Council
Info
                 
Find us on Instagram!
@groundzeroprintmakers

Visit our Blog



Currently celebrating its 30th anniversary, Ground Zero Printmakers Studio (GZPS) is a print shop with Open Studio facilities for producing hand-pulled original prints. This Victoria-based arts organization has as its mandate the practice, support and promotion of the art of printmaking.
Through the maintenance of a well-equipped print workshop, GZPS creates space for encouraging printmaking with a high degree of professionalism, and exploration in experimental, innovative and alternative practices.
As one of a network of Canada wide 'open studio' printmaking facilities, GZPS has its foundation in the long-standing practice of artists working together, sharing sophisticated equipment and special skills. This studio practice helps support the hard work and staying power that artists require to produce consistent and technically flawless hand-pulled prints.
Since its inception in 1989, GZPS has hosted hundreds of artists and students producing prints as an occasional, project based, or central core element of their creative practice.
We welcome artists working in printmaking at all levels.
The GZPS studio is located in the historic Chinatown district of Victoria, BC, Canada.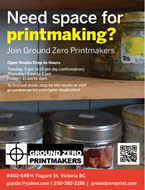 Drop In (full info) Chinatown Studio
549 1/2 Fisgard

Tuesday by appointment one week ahead 5 - 10pm
Thursdays 9am to 2pm
Fridays 11am to 4pm

To book call:
250-383-3689
250-382-2186

GZPS Monthly Meeting
1st Tues of the month @ 7pm at the Studio

Printmakers' Sites