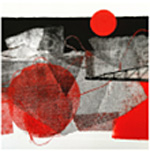 Laurie Mackie Loen

2018 EVENTS
2018 OPEN HOUSE
Dec 8, 11am - 4pm
The STUDIO

Mini Workshops
Card Making with Kathy Guthrie, Nov 6 7-9pm
More mini workshops

ODW One day
Printmaking Workshops
Saturdays 10 to 5
Members $125.
Non-members $145.
Most Materials included
With Victoria Edgarr Workshops & Schedule

DISCOVERY WEEKS
2018 Program

Printmaking Classes
by GZ members at
Victoria College of Art
vca.ca/printmaking
and MISSA, missa.ca

Visit our Blog



Ground Zero Printmakers Society is a Victoria based arts organization formed as a not-for-profit in1989 to support the practice and dissemination of printmaking.
GZPS maintains a printmaking workshop and informal exhibition space to teach, promote, and develop the craft of printmaking and to encourage innovative and alternative print based art practice.
We welcome as members those who use the GZPS Open Studio facilities as well as those working in their regional or home studio.
Individually GZPS members are professional artists with intermittent or continuous involvement in printmaking, students building portfolios for graduate studies, novices wanting to learn printmaking techniques and individuals who appreciate current printmaking practice.
At monthly meetings members share recent work, discuss current print related issues, formulate professional and community projects, and offer hands on demonstrations open to the public.
We support, collaborate, and exhibit as a group with artist-printmakers nationally and internationally, reaching a diverse audience.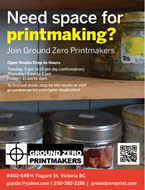 Drop In (full info) Chinatown Studio
549 1/2 Fisgard

Tuesday by appointment one week ahead 5 - 10pm
Thursdays 9am to 2pm
Fridays 11am to 4pm

To book call:
250-383-3689
250-382-2186

GZ Monthly Meeting
1st Tues of the month @ 7pm at the Studio

Members' Shows