2009/2013

Archive

For more on
GZ "Visions of Victoria" Project & Events 2012




ANNUAL OPEN HOUSE
SATURDAY, DECEMBER 14, 2019
1:00 PM TO 5:00 PM

STUDIO #402, 549 1/2 FISGARD ST
VICTORIA, BC

 ''D'après Braque'' by Dominique Chapheau
Come to our print studio and explore your senses; the feel of paper, the smell of inks, the pull of the press - a world of colour, texture and mark making - the world of printmaking.
The Open House is a group exhibition of studio artists featuring beautifully matted and framed original prints in a wide range of imagery, styles and techniques accompanied by the artist's portfolios revealing the body of the work of each participating artist. Meet the artists and share in their passion and vision.

Ground Zero Printmakers Society was incorporated in 1989 and is located the heart of Chinatown. It has continuously operated an Open Studio Facility in printmaking for professional and emerging artists exhibiting individually and with GZPS.

Original Prints by Ground Zero Artist Printmakers
Heather Atkinson, Dominique Chapheau, Chloé, Alain Costaz, Victoria Edgarr,
Dorothy Field, Avis Rasmussen, Barbara Tolloczko, Marylou Wakefield, Cindy Wright, Laurie Mackie, Desiree deRuiter and more
Festive refreshments provided
Contact:
Alain Costaz GZPS President
groundzeroprint@gmail.com
(250) 382-2186

PrintCraft Show & Sale
November 15 &16, 2019
Friday 12pm to 7pm & Saturday 1pm to 5pm
Art Cards, Bookmarks, Boxes, Artist Books, Hand-bound Books, Buttons, Ephemera, Collage, Weavings, Marouflage Made from original hand-pulled prints



Come make your own button!

Come and visit our Chinatown studio 
3rd Floor, 549 1/2 Fisgard Street
(Corner of Fan Tan Alley and Fisgard Street)




2018
OPEN HOUSE 2018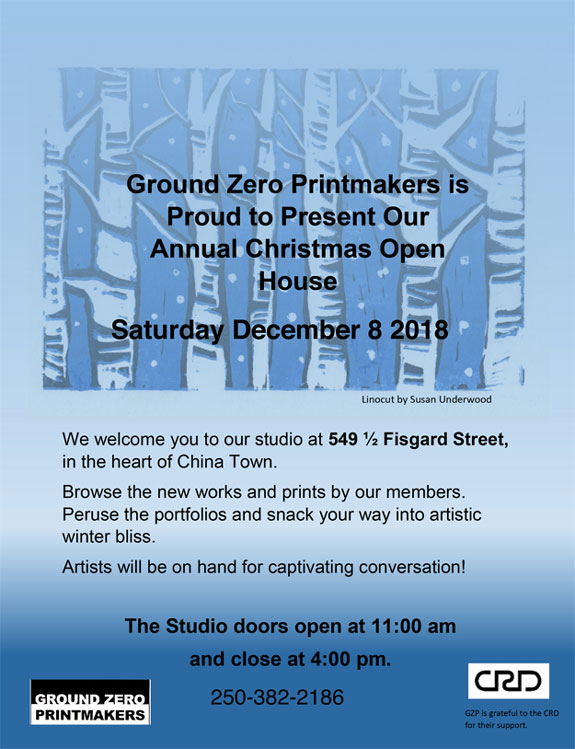 2017
OPEN HOUSE 2017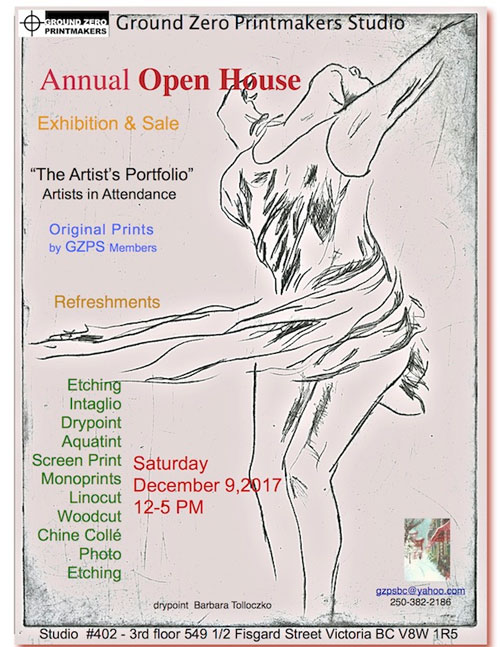 Ground Zero Printmakers' MEMBERS' SHOW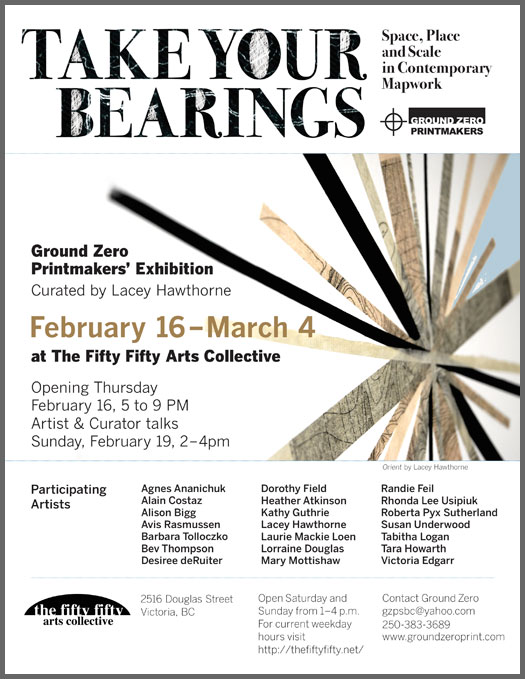 2016 ANNUAL OPEN HOUSE
Exhibition & Sale
Saturday, December 10, 1 - 5pm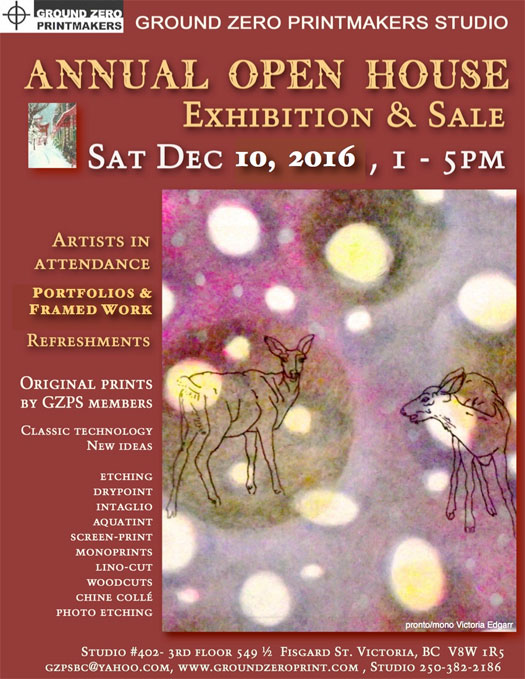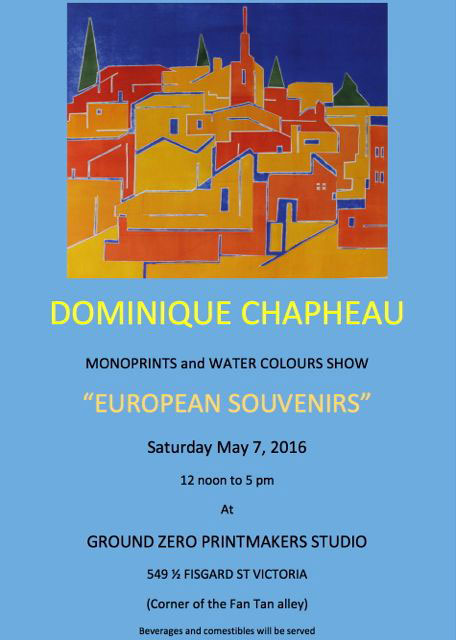 2015 ANNUAL OPEN HOUSE
Exhibition & Sale
Saturday, December 12, 1 - 5pm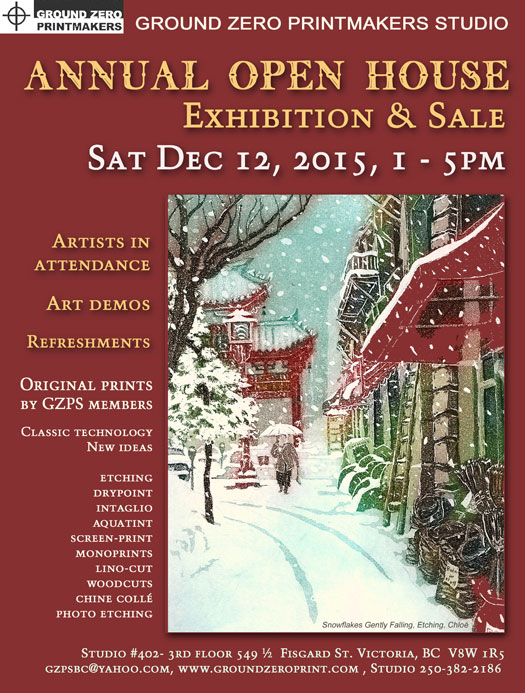 GZ Exhibition Event - "Me, Myself & I"
May 21 - June 2,
Opening: Sat May 23
Art Centre at Cedar Hill, Victoria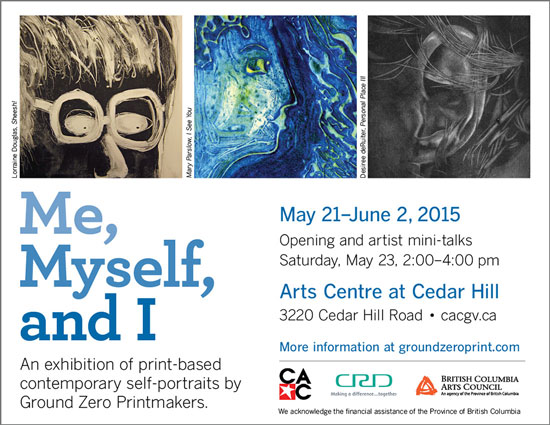 2014 PROGRAM

OPEN HOUSE, Sat Dec 6, Noon - 4pm
The Studio, 549 1/2 Fisgard St. Victoria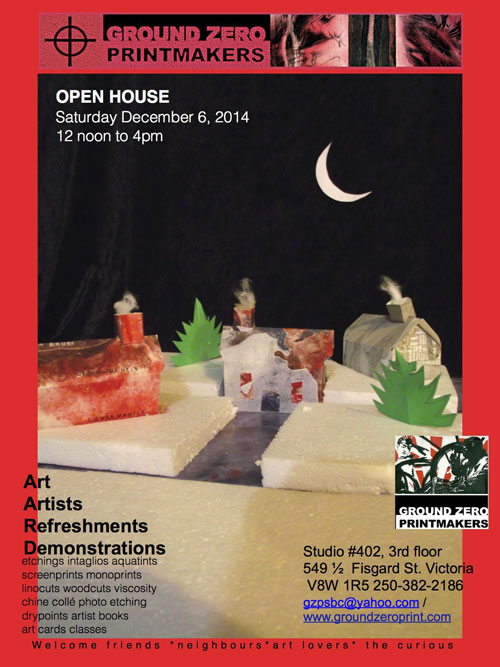 Hands-on Mini Workshop
Chine Collé & Direct Transfer Printmaking
"Me, Myself, You and I" with Gail Lamarche
Tuesday June 3, 2014, 7-9 PM The Doors open 6:45
Fee: Members $10.-  Non-members $20.-
To register or for more information contact Alain at GZPS gzpsbc@yahoo.com, 250-382-2186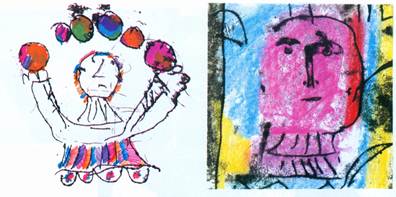 Norman Laliberté     monoprint portraits
 
"Me, Myself, You and I"
(Exploring the Self-portrait in Contemporary Printmaking Project)

Gail Lamarche will lead a lively workshop in drawing portraits and self-portraits using transfer monoprint technique. Participants are invited to bring a "Significant Object" to include in their portraits. GZPS will provide materials, inks and a variety of papers and will guide participants in the chine collé process for mounting a chosen work.
Gail Lamarche is a painter, printmaker and textile artist currently working in Sidney BC and Arizona, USA. Since 2007, she has exhibited regularly with Ground Zero Printmakers. Gail studied at L'Ecole des Beaux Arts, Montreal, San Francisco School of Fine Arts and Montreal Museum of Fine Arts (MMFA) and is a former artist-lecturer with MMFA, Université du Québec UQAM, and Concordia University.
gaillamarche.com
To register & what to bring, contact Alain at GZPS gzpsbc@yahoo.com, 250-382-2186
Space is limited, please RSVP by May 30th  





EXHIBITION OF MONOPRINTS by Dominique Chapheau
Sat. May 31st, 2014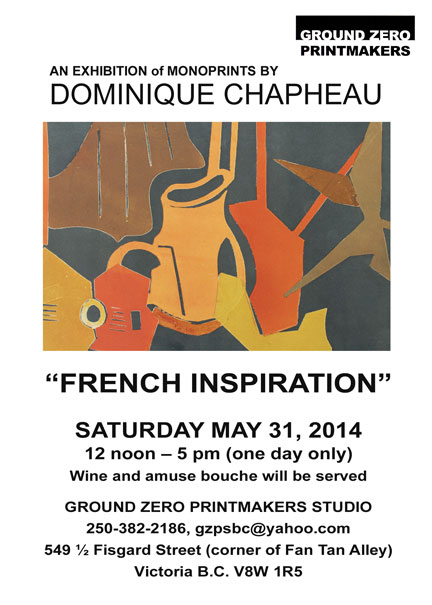 Printmaking & Poetry
Saturday,
April 26
, 1:30 to 3:30 pm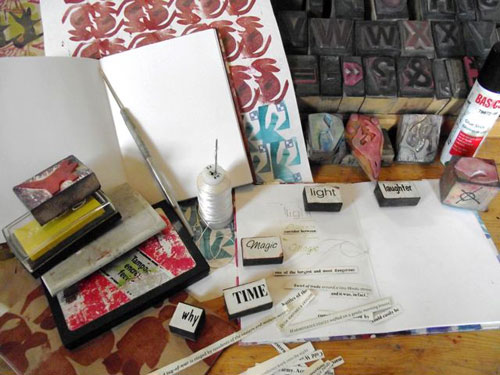 Discover your inner poet/printmaker with Ground Zero Printmakers. Make a hand-printed softcover booklet for your poetry (or collage your favourites) using colours, letters, patterns and images transformed through printmaking. Materials supplied.
Register at gvpl.ca or call the library for more information.
Location; Library: Nellie McClung Branch Location: NM Meeting Room
2013
GZPS OPEN HOUSE 2013
Sat. Dec 14th, 1 - 5 pm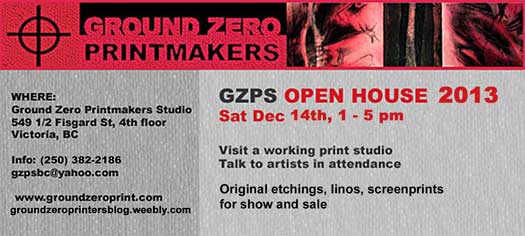 PLAY ON WORDS event
| | |
| --- | --- |
| GZPS participated in the Play on Words event in the Public Library concourse as part of the Integrate Art event. Lots of people, great work, super music. Polychrome gallery was there, Ministry of Casual Living, CABBG bookbinders, Avis Rasmussen, Caryl Peters of Frog Hollow press and the absolutely cool Outer Space gallery. A good time was had by all | |
June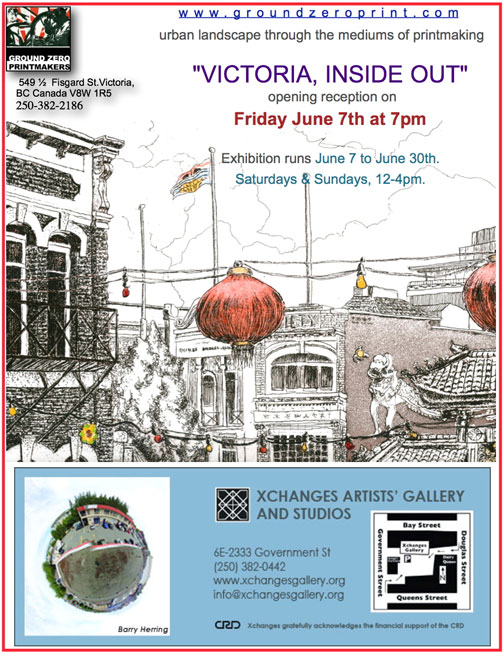 Irish Artist Maurice Orr Artist Talk and Presentation of New Prints
Friday June 28th from 7-9 pm
Xchanges Gallery 2333 Government St. Suite 6E, Victoria,  250-382-0442
(corner near Bay and Douglas, with parking on site)
The public is invited to meet visiting Irish artist Maurice Orr, artist-in-residence at Ground Zero Printmakers Studio. Maurice has collaborated with artist and master printmaker Victoria Edgarr to create prints based on his work in oil painting.
Ground Zero Printmakers Studio is very pleased to present his work in conjunction with their exhibition, "Victoria, Inside Out" at Xchanges Gallery.
Maurice Orr lives and works at his studio in Ballymoney, Ireland. He has been awarded numerous international residencies, including the prestigious Arts Council of Northern Ireland's residency at the Banff Centre in Alberta.
Maurice cites Monet, Turner, and Canadian artist Tom Thompsons' use of light and its changing effect on nature as the main influence in his style of painting.
Contact Information:
Victoria Edgarr
Ground Zero Printmakers Studio
250-382-2186
gzpsbc@yahoo.com
http://www.groundzeroprint.com

May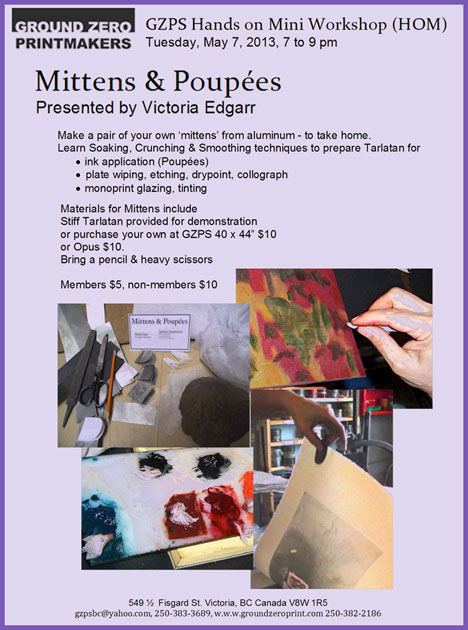 2012
December Open House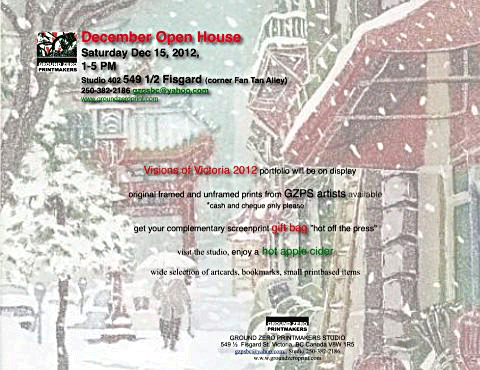 Visions of Victoria, GZ Open House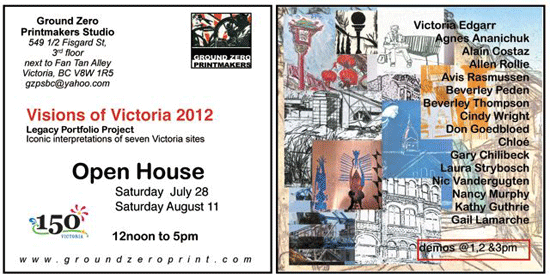 Demonstrations: Aug 11
1pm Avis Rasmussen will print from her Beacon Hill image using the reduction method on the screw press
2 pm Victoria Edgarr will print from her Bastion Square image using a double plate soft ground etching technique to combine black and white with colour.
3 pm Alain Costaz will print from his Bastion Square image combining black and white with Chine Collé
With Presentations throughout the afternoon by other VoV artists.
Demonstrations: July 28
1 pm  Nic Vandergugten will print his Lino Cut  "from Beacon Hill" on the screw press      2 pm   Kathy Guthrie will print using colour inks in the Stencil Monoprint technique, on the etching press
3 pm   Agnes Ananichuk will be working from ImageOn plates Photo-Etching Printing on the etching press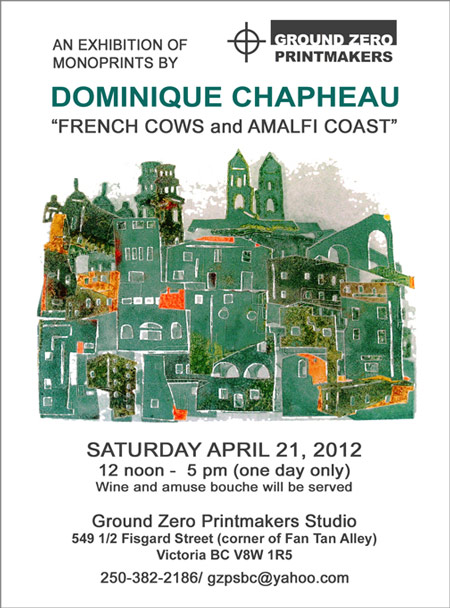 "Carnival of the Arts" Cedar Hill Rec Centre, Saturday April 28, 11 am to 3 pm

2009/2011

Celebrate the exhibition launch of Multimedia Monoprints
Oh! What a life! by Kathy Guthrie @ GZPS Studio
Friday Dec 9 th, 2011, 5 - 8 pm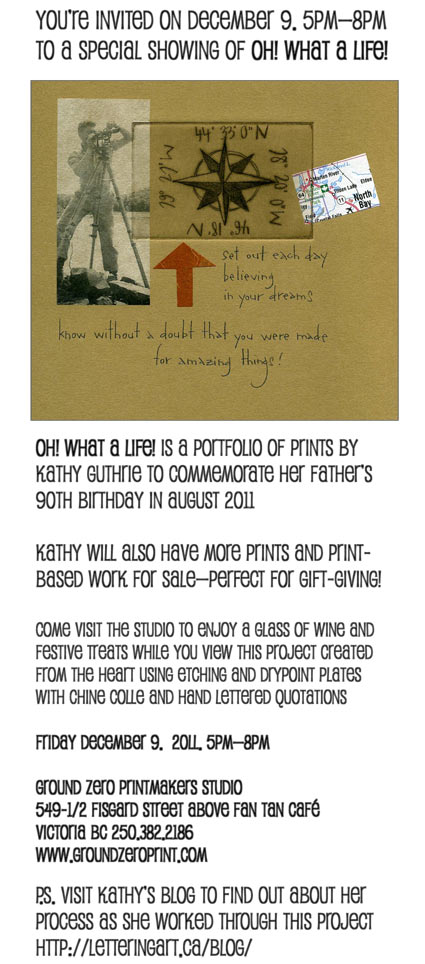 Ground Zero Printmakers is participating in Culture Days 2011
For more information, visit www.victoria.ca culturedays
or call 250-361-0363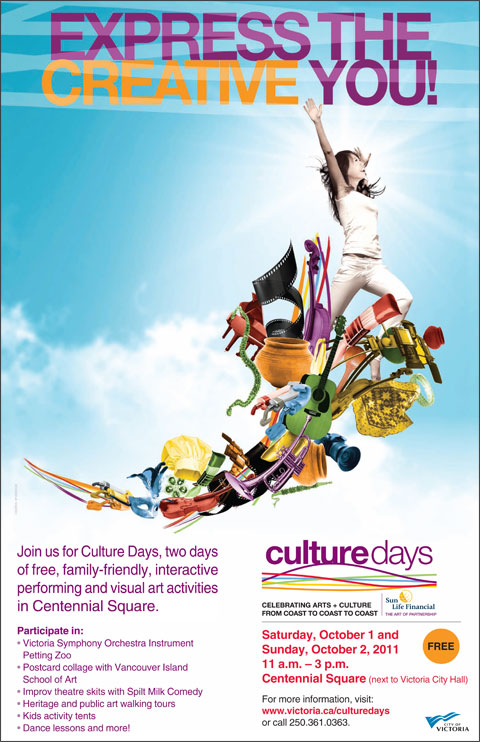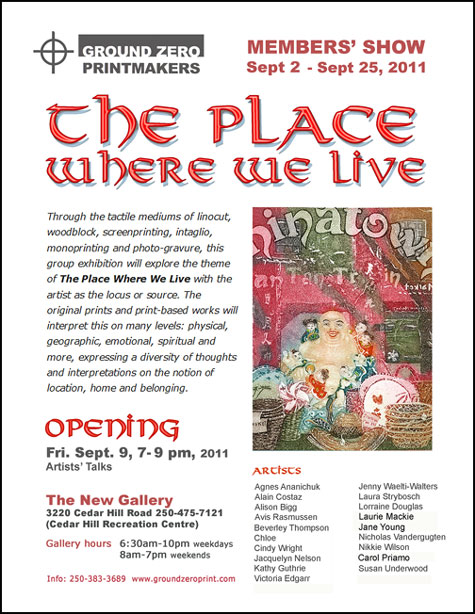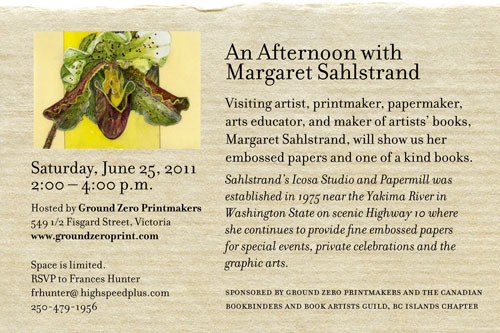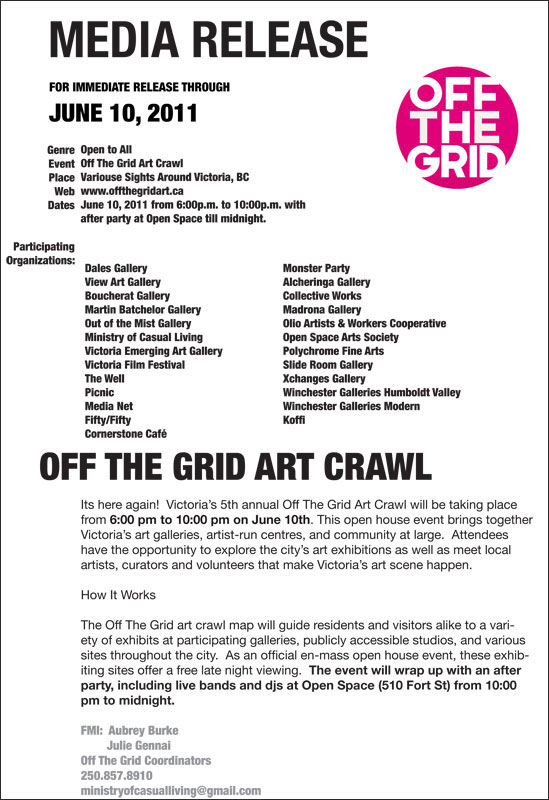 GZ Exhibition Oct 26 ' 10 - Jan 10, 2011
Burnaby Public Library
McGill Br. 4595 Albert St

2010 Ground Zero Printmakers Studio OPEN HOUSE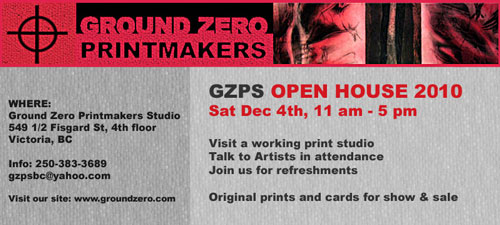 Oct 26, 2010 - Jan 10, 2011 - Burnaby Public Library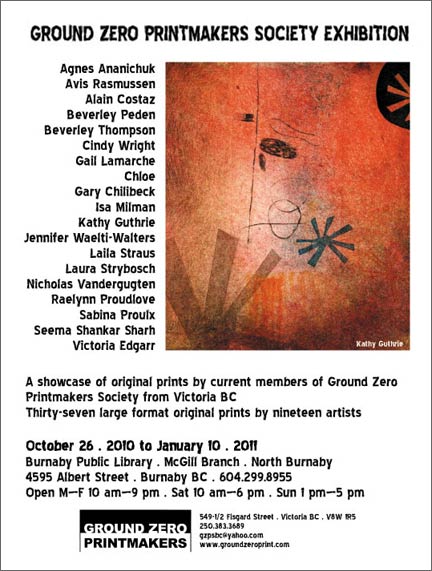 "PORTALS" - The Print as Portal
 "We look through an array of portals to see the world like windows, doorways, arches, and gateways. With our eyes we use spectacles, binoculars, telescopes, microscopes and more...  The shape of the print on the page often reminds me that the print itself is a window into our imaginations."

Opening: Sat July 24, 2010, 7 to 9 pm;
Runs to Thurs Aug 26
Martin Batchelor Gallery 712 Cormorant St, Victoria, BC, 250-385-7919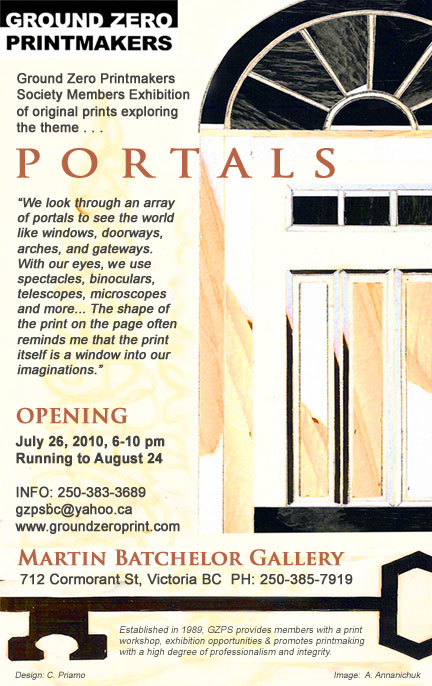 "IMPRINT" - Contemporary Printmaking in Victoria
Featuring original prints and print-based works by Ground Zero members
Gallery at the Mac - 3 floors of exhibition space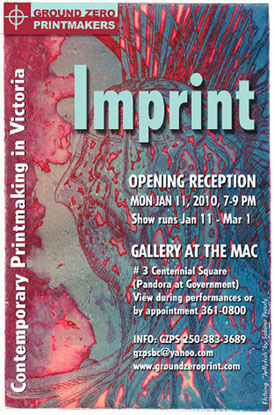 GZPS OPEN HOUSE - Sat. Dec 5th, 11am - 5 pm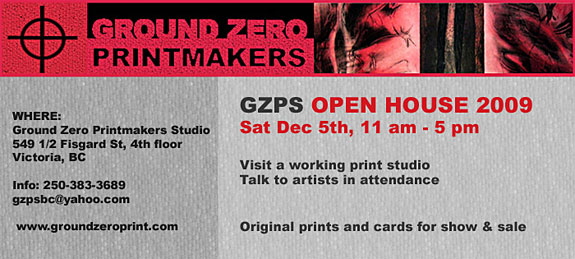 Show at "Bean Around the World" Cafe
533 Fisgard Street, Victoria BC
Nov 11 - Dec 2, 2009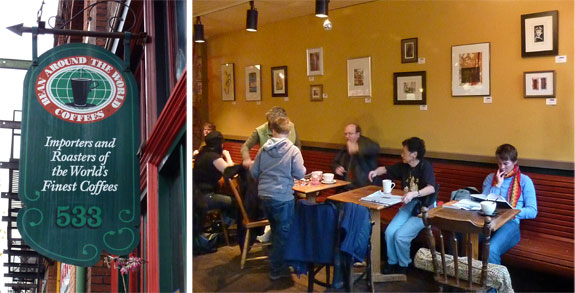 2009 GZP Members' Annual Show
"That's Progress" - Celebrating 20 years of Printmaking
Opening: Sat. Sept 12, 2-8pm, continuing to Sept 27
Gallery Hours: Sat/Sun 1 - 4 pm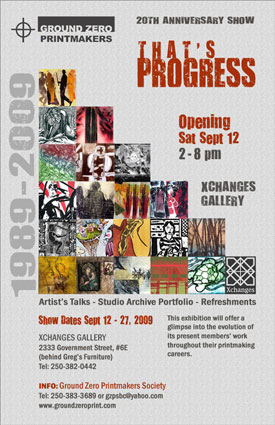 2009 GZP Members Group Show
OPENING June 5, 6:30 - 8:30 pm Show runs June 5 - July 31.
At Hemp & Co., 422 Craigflower Rd, Victoria, BC
Info: 250-386-1130