A Ground Zero Printmaking Project celebrating the 150th anniversary
of the City of Victoria May - Oct 2012
Presentation Album and Prints
Please click on thumbnail for enlarged version
Gallery of Prints
Printed on Rives BFK 250 gsm 11' x 15", beginning at $150. Available at GZPS

| | | | |
| --- | --- | --- | --- |
| Gail Lamarche | Bev Thompson | Laura Strybosch | Cindy Wright |
| Victoria Edgarr | Chloé | Agnes Ananichuk | Alain Costaz |
| Avis Rasmussen | Nicholas Vandergugten | Allen Rollie | Nancy Murphy |
| Don Goedbloed | Bev Peden | Kathie Guthrie | |
October 21, 2 - 4:30 pm
Presentation of GZ Album of prints to the Greater Victoria Public Library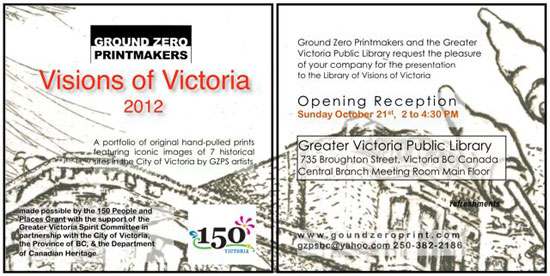 OPEN HOUSE INVITATION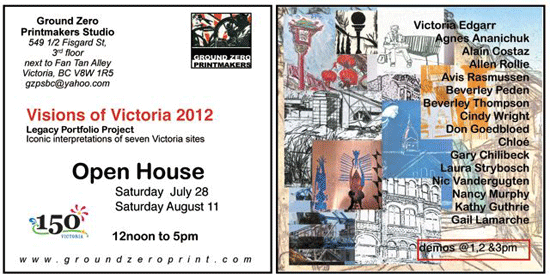 Demonstrations: Aug 11
1pm Avis Rasmussen will print from her Beacon Hill image using the reduction method on the screw press
2 pm Victoria Edgarr will print from her Bastion Square image using a double plate soft ground etching technique to combine black and white with colour.
3 pm Alain Costaz will print from his Bastion Square image combining black and white with Chine Collé
With Presentations throughout the afternoon by other VoV artists.
July 11 Open House

Demonstrations: July 28
1 pm  Nic Vandergugten will print his Lino Cut  "from Beacon Hill" on the screw press     
2 pm   Kathy Guthrie will print using colour inks in the Stencil Monoprint technique, on the etching press
3 pm   Agnes Ananichuk will be working from ImageOn plates Photo-Etching Printing on the etching press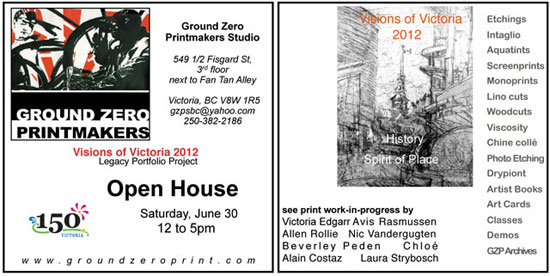 Plein Air Sessions
Launch at St. Ann's Academy
May 15

Industrial Park May 17

Chinatown May 19

Beacon Hill Park May 20

Bastion Square May 23

Centennial Square
Tues, May 15 Project Launch Invitation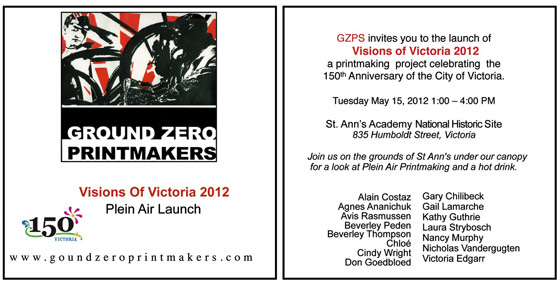 Project Description

150 People and Places                                              
Addressing Arts and Culture
Unique visions executed through the richness of printmaking media and techniques will stream together to form a handmade Portfolio Album of Original Prints, echoing the etched and engraved visions of Victoria made by founding area artist-printmakers.

To celebrate Victoria's 150 years, Ground Zero Printmakers Studio (GZPS) will create a portfolio album of  hand-pulled original prints  called "Visions of Victoria 2012" featuring contemporary images of 7 identified historical sites.
Led by professional artist Victoria Edgarr, these etchings, linocuts, collographs or  serigraphs would be created by professional and emerging GZPS artists  working together in 'plein air', print studio, and presentation activities May through October.
GZPS will provide opportunities for the public to interact with printmakers working 'plein air' in groups of 3 or more, making direct studies in techniques such as  drawing on etching plates, doing mono print transfers and stencils, dry point, collograph construction, silkscreen, using chine collé papers, inks, brayers, grounds and blocks, zinc and copper.
In the 3 following months, the public is invited to GZPS in it's historic Chinatown location to enjoy three Saturday Open Studio Days seeing the works in progress; artists pulling prints at the press, pulling proofs, working up their plates, biting, carving, and inking up and hand printing.
In October, we would hold the completed Album Launch Presentation to the City of Victoria, and other public institutions.

Plein Air Dates and Sites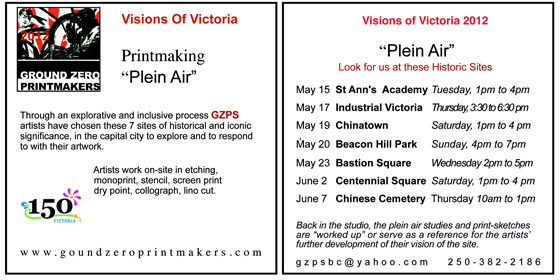 SITES
Through an explorative and inclusive process GZPS artists have chosen 7 sites of historical and iconic significance of the capital city to explore and to respond to with their artwork.
1 St Ann's Academy
Remarkable Silhouette, Beautiful grounds and orchard landscape providing varied views for great compositions.
The architectural features of St. Anne's were seen across western Canada signifying the presence of the church and its importance in education and government.
Now this site has also been used for wedding photos, is home to theatre production, and cultural centre events like Luminara.
2 Industrial Victoria 
Discovery & Store St Rice landing, Rock Bay, legacy of brick work and industrial power.
This site has a legacy of industrial architecture pointing to the importance of Victoria as a port and a commercial hub. The growing incorporation of this site into the commercial and cultural life of the city point to it as an important part of Victoria's future.
3 Bastion Square
Bastion Square because it's the original "Victoria"
Haunted with very colourful past, and has lots of nooks and crannies where "things" can hide. The historical heart of the city. From this site the rest of the city radiated and its buildings retain important aspects of Victoria's cultural past. It has been a Market place for cultural events and home to the Maritime Museum.
4 Beacon Hill Park
Stone Bridge, other views identified as Victoria
Emily Carr had favorite trees in Beacon Hill park where she apparently buried things.
Beacon Hill Park ... nature, significance to First Nations
Emily Carr painted here. It forms a link between urban Victoria through its flora and views of the ocean and mountain ranges
5 Chinatown
The location of GZPS studio, in Heritage Building it's 3rd home in 23 years.
Represents our history of empire, immigration, inclusion/exclusion, tourism
A strong visual connection with food distribution into the city
It provides the rhythm and mood for in-studio creative work and reflects the multi-ethnic character of Victoria. It is a vibrant downtown neighborhood with the highest concentration of artists in the city.
6 Centennial Square
Contains the City Hall, 60's architecture, Spirit Poles, 60's Public Art Contemporary re- design, Pearl sphere
The fountain design of the 60's and the spirit poles of the 21st century reflect the changing attitudes of the city to its people and history over the decades. It is a centre for public art and public art events.
7 Chinese Cemetery
History combination of Landscape and urban seascape, distance from downtown
Combines landscape and urban seascape and reflects the Asian community experience in the city of Victoria