Hands-on Mini (HOM) Printmaking Workshop



"A card is a 4-page book" making unique art cards
with Victoria Edgarr


Tuesday November 5, 2019, 7-9:30 pm

Doors open 6:45 pm
Fee: Members $25 Non-Members $35

       
To register and for more information contact Alain at groundzeroprint@gmail.com 250-382-2186

"A card is a 4-page book" making unique cards
(Inform Influence Inspire GZPS 30thAnniversary Archives Project)

Making cards is a playful way to explore printmaking and the book arts. In this lively evening, have fun producing these mini art works, and build up your repertoire of skills and creative ideas.
            Victoria Edgarr will demonstrate, with tips, tools and finishing touches. Some of her ways of card making include patterning from print blocks, botanicals and found objects, hand and press embossing, and the basics of paper handling, combining papers of various textures and weights, as well as using gold skins and other finishing touches.
Complete the workshop with new cards, your own hand-made block and a wealth of shared experiences.
(workshop for all levels)

Victoria Edgarr works across disciplines and is always informed by the fundamentals of  print practice. Her teaching practice extends from professional artists to community workshops for adults and children. Exhibiting since1980, her work can be seen internationally, regionally and at her Chinatown studio.
www.victoriaedgarr.com

To register & what to bring, contact Alain at groundzeroprint@gmail.com 250-382-2186

Space is limited so please RSVP by October 31, 2019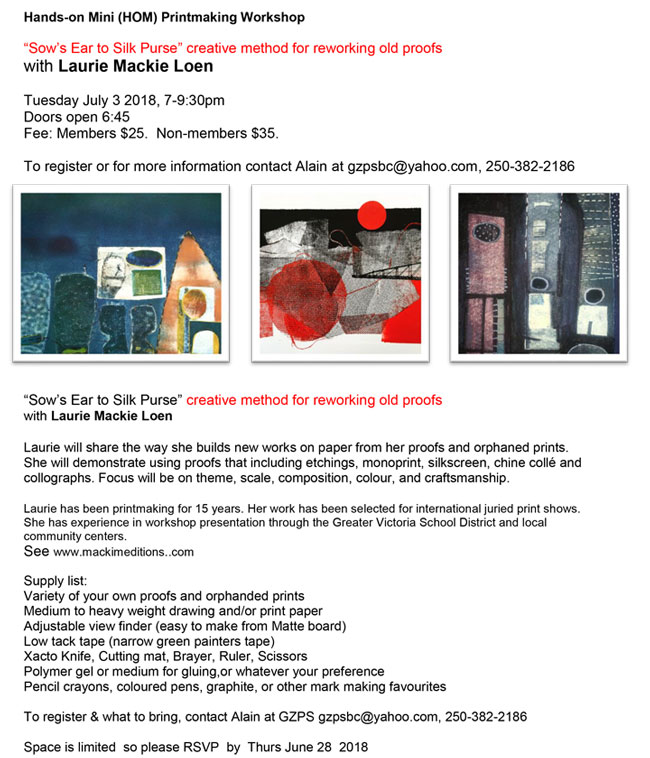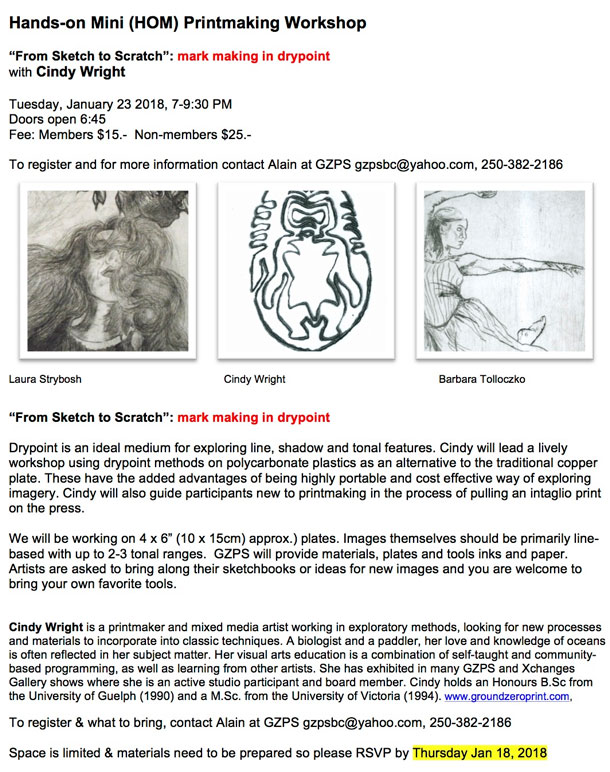 HANDS ON MINI PRINTMAKING WORKSHOPS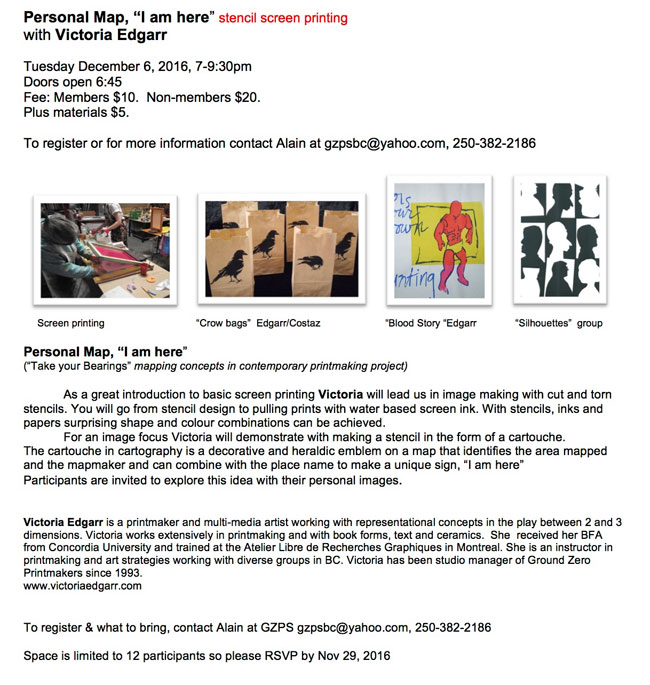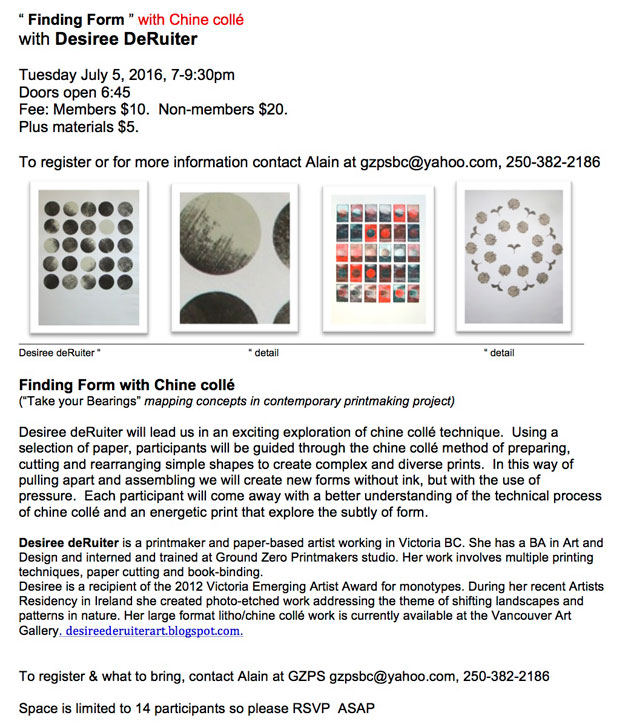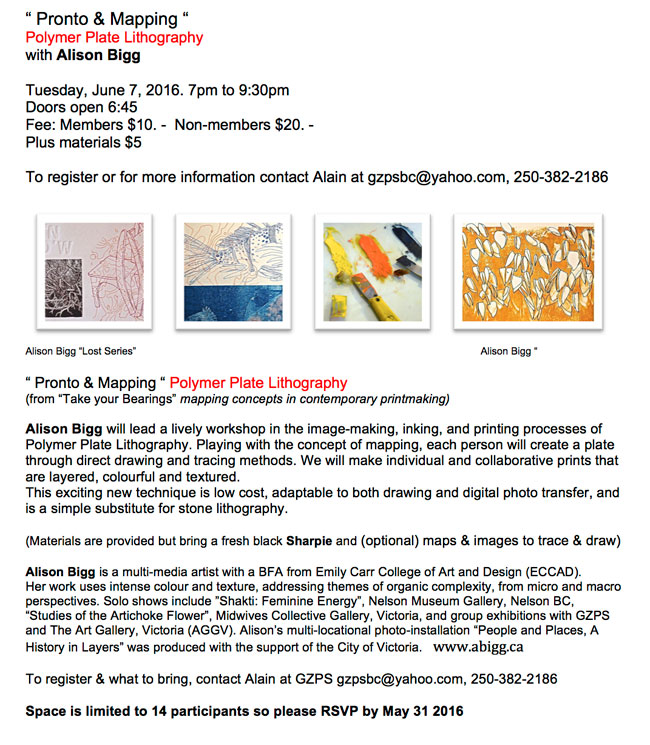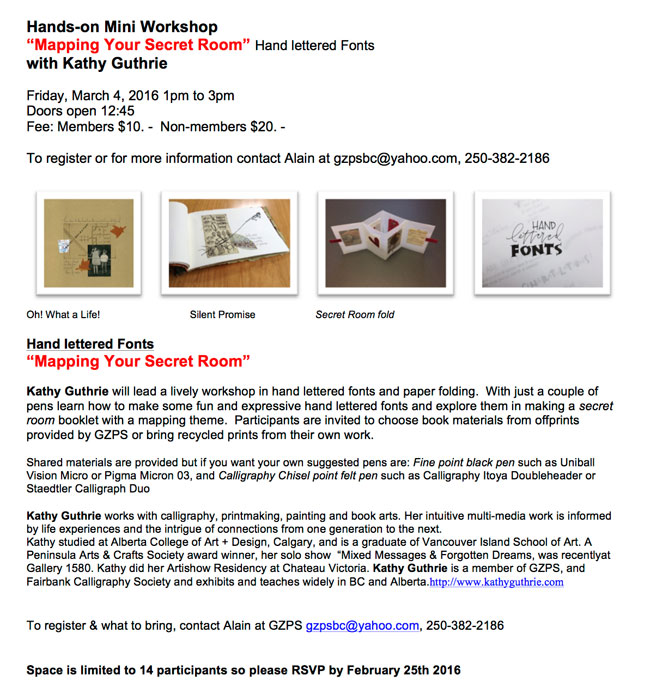 Oct 17, 2015

OCT 6, 2015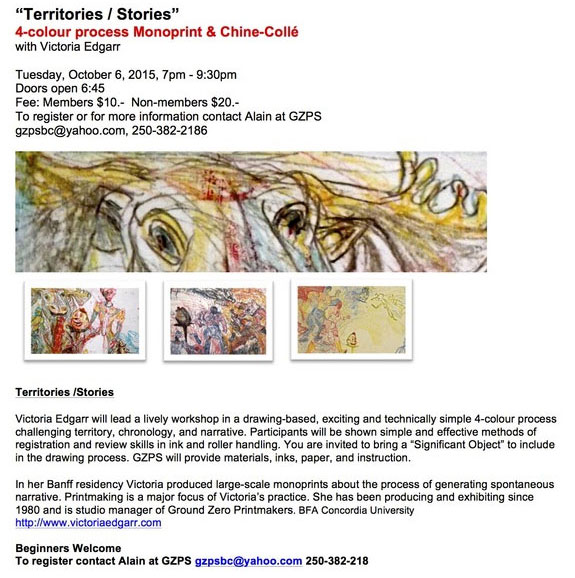 Drypoint on Plastics Printmaking
"Scratching the Surface:
Explorations in Self-Portraiture using Drypoint"
with Cindy Wright
Tuesday, February 3, 2015, 7-9:30 PM
Doors open 6:45
Fee: Members $10.-  Non-members $20.-
To register and for more information contact Alain at GZPS
gzpsbc@yahoo.com, 250-382-2186
Cindy will lead a lively workshop using the skin/body as a textural tool for mark making (going along the lines
of the 'superficial.') exploring the portrait and self-portrait.
We will discover drypoint methods using plastics as plates, primarily lexan, as an alternative to the traditional
copper.
GZPS will provide materials, inks and tools and will guide participants in the printing process for producing a
print of their chosen drypoint. You are welcome to bring your own favourite tools.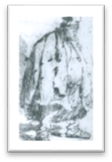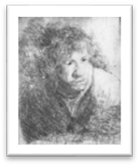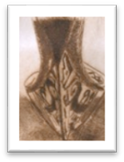 Rembrandt                                                                                Wright
                                                                      
Cindy Wright is a printmaker and mixed media artist working in exploratory methods, looking for new
processes and materials to incorporate into classic techniques. A biologist and a paddler, her love and
knowledge of oceans is often reflected in her subject matter. Her visual arts education is a combination
of self-taught and community- based programming, as well as learning from other artists. She has exhibited
in many GZPS and Xchanges Gallery shows where she is an active studio participant ad board member.
Cindy holds an Honours B.Sc from the University of Guelph (1990) and a M.Sc. from the University of Victoria. 
See www.groundzeroprint.com,
To register & what to bring, contact Alain
at GZPS gzpsbc@yahoo.com, 250-382-2186
Space is limited, please RSVP by January 30, 2015   



Stencil and Word Portrait Printmaking
"Me, Myself, and I… and now some additional information …"
with Agnes Ananichuk

Tuesday July 8, 2014, 7-9:15 PM
Doors open 6:45
Fee: Members $10.-  Non-members $20.-

Agnes will lead us through a series of stimulating word exercises and share her process in the creation of
oil-based monoprint word stencils. She will present an overview of prints where text has been used, and
demonstrate the making and printing of word stencils.
Participants will be guided in inking, rolling, and printing colourful bookmarks made from their word portraits.
The workshop will inspire new ideas on using text as a visual element and help develop a vocabulary to
enhance the creation of "selfies".




Agnes Ananichuk

Agnes Ananichuk is a Victoria artist working with printmaking and collage. A Diploma graduate of VCA
(2000), her practice explores the patterned abstraction / random geometric, and is informed by her many
years in the civil service. Agnes works extensively in at GZPS in etching, collograph and viscosity.
She exhibits regionally in many juried and group shows including "Familiar Strangers" a collaborative
exhibition at centre d'exposition d'Amos, Quebec, University of Victoria Library and le centre culturel
francephone, Vancouver.  Her work can be seen this summer at the AGGV Small Works and Moss
St Paint-in events and at Sooke Fine Arts.
www.aananichukart.com
To register & what to bring, contact Alain at gzpsbc@yahoo.com, 250-382-2186
Space is limited, please RSVP by July 3
Image Transfer Workshop
with Susan Underwood
Tues. March 4, 2014, 7 - 9 pm
Doors open 6:45
Fee: $10.- members $20.- non-members
To register or for more information contact Alain at GZPS:
gzpsbc@yahoo.com, 250-382-2186


Image transfer is a means of incorporating a drawing, photograph or found image onto another surface. For GZP members that surface will probably be a print, but image transfer is very popular in journaling and collage. you will learn three different image transfer techniques:
Blender Pen (demo only)
Packing Tape
Gel Medium
We will be transferring the images to paper and working small (3"x5"); if you wish to transfer your image to a
small wooden cradle, these can be purchased at either Opus or Island Blue. 
Your own images will be most rewarding to work with. Suitable images should be high contrast toner based
photocopy or printer image.Colour or black and white images work equally well.  Staples has the right
photocopy machines if in doubt. Use the colour copier even if your images are black and white. Be sure  to
go to  "Image" function on the photocopier and adjust contrast.
You can also choose "Mirror Image"  for some of your images as the image will be reversed  when we are
using the gel medium technique.   
Staff are available to help if you are not familiar with how to do this.
Please bring your own brush for applying the gel medium.  
Susan Underwood is a Victoria artist who has lived most of her life on the B.C. west coast. She attended
Simon Fraser University and University of Victoria. After moving to Victoria in 1998, she joined Ground Zero
Printmakers' Society and was introduced to  various printmaking processes by Alain Costaz and Victoria
Edgarr. Now retired from a career as a public school educator, administrator and university instructor, she
is free to spend more time on artistic pursuits. She and fellow printmaker, Lorraine Douglas, share Cecelia
Press Studio and offer workshops in various forms of printmaking.  Susan's preferred media include printmaking,
acrylic and pastel painting, drawing and photography. Susan has participated in GZP group shows, Sooke Fine
Arts Show, AGGV shows, Moss Street Paint-in, and group shows in Metchosin, Nanaimo, Cedar Hill Recreation
Centre, Eclectic Gallery and several local coffee shops. 

Try Reduction Linocuts--Picasso did!
with Avis Rasmussen BFA

Feb 4th, 2014, 7 to 9pm; Doors open 6:45
Fee: $10.- members $20.- non-members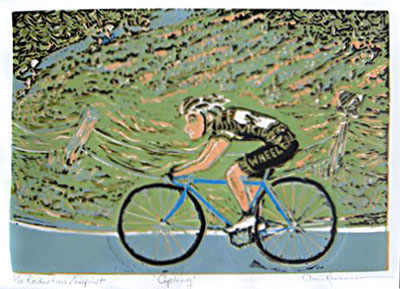 This mini-workshop will use one 2" x 2" easy to carve linoblock. Participants will create and take away a small
edition of 3 colour linocuts. Each printmaker will carve their block, ink it up with water based ink and print it off
on several small sheets of paper--coloured or white since the first cut reveals the paper colour.
A simple method of registration will be shown because the second carving of the block keeps the first colour
inked up and a second colour is printed. Thus the Reduction Linocut --if several prints made each time- will be
an edition (depending how many printed) of a 3 colour linocut.

Bring a "design" or "image" 2"x2" for your linocut of 3 colours and a pencil. If you have lino cutting tools bring
those- -the linoblock, paper, inks, different ways to print off the block, and hairdryer to dry ink --supplied--although
bring your own hairdryer if you wish.
Enjoy! Avis

BIO Avis Rasmussen BFA As a printmaker Avis currently works carving a linoblock : printing, carving, registering
and printing in a Reduction method of Relief Printmaking--which Picasso used! She has printed stone lithographs
at UVic with Pat Martin Bates, Japanese woodblock at MISSA with Noboru Sawii, etching with Alain Costaz and
silk screen with Victoria Edgar of Ground Zero Printmakers of which Avis has been a member since 1997
( Watermark Printmakers since 1987). But over the years she developed a preference for the Relief Printmaking
method of Reduction Linocuts finding this has like lithography some painterly aspects--since Avis also paints

To register or for more information contact  Alain at GZPS gzpsbc@yahoo.com,
250-382-2186. Space is limited, so please register soon.
Hands-on Mini Workshop -  Nov 5, 2013
" Curious about Mezzotint?" Some Starter Tips and Tools
Randie Feil

Definition of mezzotint?
Mezzotint is an intaglio printmaking process that typically yields prints characterized by soft tonal gradations and
rich, luscious blacks.
Hands-on Mini Dates: Nov 5 2013 7 PM to 9pm; Doors open 6:45
Fee: $10.- members $20.- non-members
Description: This is a brief hands on introduction to making a mezzotint print. Randie Feil will demonstrate and
lead the group in making mezzotints:
Rocking  the plate, creating the initial texture, transferring the drawing guide, scraping and burnishing techniques
& printing the plate.
Each participant will leave with a print from a 3x3 copper plate

All materials will be provided
If you wish, bring:
apron,
3x3 drawing
tools roulettes and rockers, burnishers and scrapers
Bio  
Randie Feil holds a BFA in Printmaking (1990) from the University of Victoria.She has been making editions
since she was thirteen and made her first reduction linocuts. She developed a devotion to mezzotint during
university; she now works out of her Victoria studio, regularly exhibiting her work in international shows,
including from across Canada and the US, to England, Australia, Serbia, Mexico, Japan, and Bulgaria. Her
work has been accepted into BIMPE in Vancouver, the Sidne Fine Art show, BAM!/!BAM in Quebec, and
Design Festa in Tokyo.

Randie's imagery is inspired by a fascination with the natural world, and by the varied means - including myth,
art, and scientific study - by which the world around us may be interpreted. That a subject or idea may be
considered in various ways simultaneously is an underlying theme of her work, which often combines fossil
motifs, text, visual metaphors, and whimsy to allude to this multiplicity. With its rich and varied tonal range,
mezzotint is an apt medium with which to express and explore these deep and subtle combinations of
interpretations.
Randie Feil is a member of the International Mezzotint Society. Randiefeil.com
To register or for more information contact  Alain at GZPS gzpsbc@yahoo.com, 250-382-2186
Space is limited, please register by October 29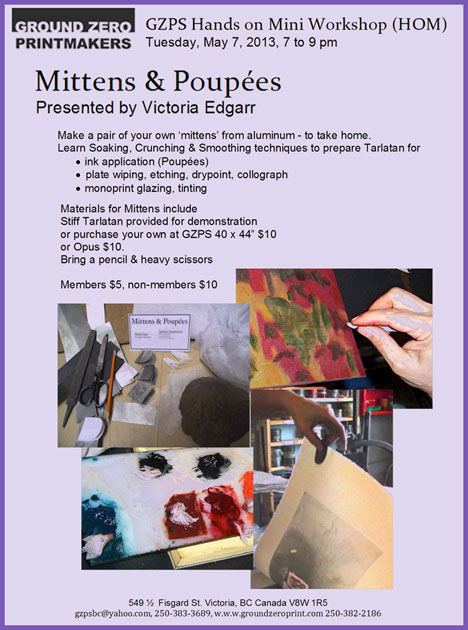 May 12, 2013, 1 to 4 pm
Mother's Day Hand-made Gift Wrapping
Past Workshops
Geometrical Collage using Proofs & Goofs
Presented by Agnes Ananichuk
Tues. March 2, 7 - 9 pm
Agnes will share her process in developing geometric collage using her templates and discarded printing proofs. www.aananichukart.com
This workshop will explore collage making using the cast-off materials (proofs and goofs) from the print-making
process.  Stress will be placed on using patterns based on linear geometrical shapes (straight lines/edges and
use of rectangles, squares, triangles etc.).  Tips and techniques will be shared that hopefully will enhance the
collage making process and be transferable to other materials and processes.